Heisman Hype: Not the Usual Suspects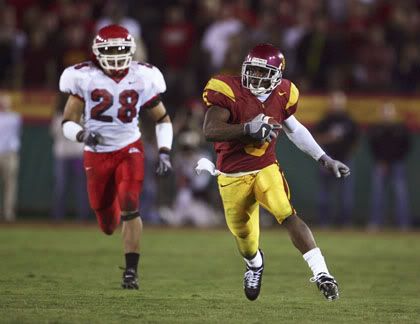 The most prestigious award in all of sports is the Heisman Trophy. Every year college football media outlets start hyping their favorites in January and the hype doesn't end until early December. Reggie Bush walked away with the Heisman last season, mostly based on his record breaking performance against Fresno State. Vince Young finished second but after the Rose Bowl, it was evident who really deserved the award.
Last year Bush was the overwhelming preseason favorite to win the Heisman. However, a dark horse usually seems to always emerge. Who could have imagined Brady Quinn getting an invite to New York back in August of last year? Prior to last year, every year since 2000 a long shot has either won or finished second in the Heisman race.
In 2000 thirty-something Chris Weinke beat out Josh Heupel in a less than stellar year for Heisman contenders. Heupel came out of nowhere to lead Oklahoma to the national title, but it wasn't enough win the Heisman.
In 2001 Eric Crouch beat out the more deserving sophomore Rex Grossman. Grossman, like Heupel, was long shot to win the Heisman in the preseason and fell victim to the sophomore rule.
2002 produced the most exciting race this decade, in my opinion. Carson Palmer, Brad Banks, Larry Johnson, Willis McGahee and Ken Dorsey were all deserving. Palmer won, but preseason long shots Banks and Johnson finished second and third, respectively.
2003 produced the most surprising winner this decade. The often injured Jason White put up remarkable numbers to beat out Larry Fitzgerald.
In 2004 White returned for the chance to be the only second repeat winner. Despite posting better overall numbers than he did in 2003, he didn't win. Matt Leinart was considered one of the favorites to win the Heisman after finishing sixth in 2003 and did so. However, White's teammate, freshman sensation, Adrian Peterson came out of nowhere to finish second.
Last year
I listed 10 dark horse candidates
who I felt had a legitimate chance to win the Heisman. Michael Robinson was the only one is listed to finish in the top 10, he
finished No. 5 in the voting
. This year I have 10 more dark horses who could surprise.
I will leave all the "real" Heisman analysis to
HeismanPundit
, but I feel I have a knack for picking long shots. In 2003 I pegged White as one of my favorites, if Oklahoma ran the table, but I didn't have a blog that year to record my opinions. So, I don't think I can take the credit for it. This list will not contain the usual suspects: Brady Quinn, Troy Smith, Ted Ginn, Adrian Peterson, and etc. Nor will it list any players from the non-BCS conferences. I don't think there will be winner from a non-BCS school anytime soon. The 10 dark horses in no particular order: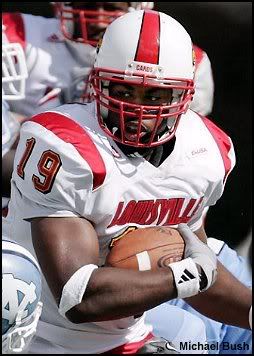 Michael Bush, Louisville
- Bush had 23 rushing touchdowns last year despite missing 2 games. His only shot to win the Heisman is too put up ridiculous numbers.
Lorenzo Booker, Florida State
- FSU is poised for a breakout year. The schedule is set up for a national title run and Booker could lead that charge. The former high school all-American has yet to live up to the hype, this could be his year.
Drew Tate, Iowa
- Banks finished 2nd in 2002, so it is not a stretch to think a Hawkeye quarterback can win the Heisman. Iowa has a chance to finish the season unblemished, and the quarterback for a national title contender is always a top candidate.
Drew Stanton, Michigan State
- The Spartans have little or no chance to win the Big Ten or contend for the national title. However, Stanton is one of the most exciting quarterbacks in the game. If he can out duel Brady Quinn in September and pass for over 4,000 yards on the year, the kid has a good shot to win.
Pat White, West Virginia
- If the Mountaineers can survive the hype, there is a good chance they will be the only unbeaten team in the country. White has good chance to pass for over 2,000 yards and rush for close to 1,500 yards. With numbers like that, he will be hard to ignore. His biggest competition, however, will come from teammate Steve Slaton.
Mike Hart, Michigan
- Hart was every bit as good as Adrian Peterson in 2004. He had an injury filled season last year, but will be ready to lead the Wolverines back into the national title picture in 2006.
Chauncey Washington, USC
- The starting tailback at USC always has a chance to win the Heisman. It doesn't hurt that Washington was considered, by some, a better tailback than Reggie Bush and Lendale White when all three were freshman in 2003.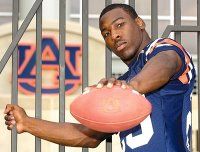 Kenny Irons, Auburn
- Irons is the best running back in the nation in my opinion. He might not be able to put up the numbers to beat the "usual suspects" but he could make it interesting if the Tigers are the No. 1 team in the nation.
Thomas Brown, Danny Ware or Kregg Lumpkin, Georgia
- One of the trio has to emerge, and as of spring ball it looks like Brown. I am a fan of Lumpkin, but any one of these three has a chance at the Heisman as long as they get 20-25 carries a game.
Tyler Palko, Pittsburgh
- Palko and Pitt had a very forgettable year last season, and it can only get better this year. Pitt has a very favorable schedule and the Panthers have a good shot at double-digit wins, if Palko has an outstanding year.