Week One Picks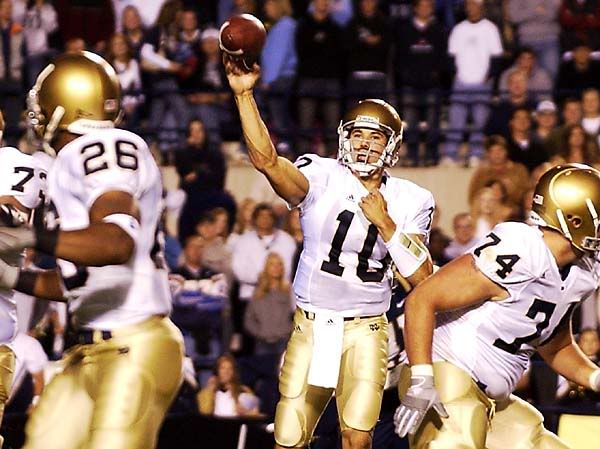 The Biggest Games
(ranked by significance)
1. Miami at Florida State
- Neither team is ranked in the top 10 and both are coming off of bowl losses -- FSU almost upset Penn State in the Orange and Miami was blown by LSU in the Peach. Miami brought in Rich Olsen to run the offense. Olsen comes from the NFL but was a Miami assistant in the 90's. His job is to turn QB Kyle Wright and the offense into the juggernaut it once was. FSU QB Drew Weatherford has a complete season under his belt, but unless FSU utilizes RB Lorenzo Booker, the offense will not improve. FSU's defense must rebuild and the Miami offense will be more potent than last year's unit. This game has not been that high-scoring the last few years, but Miami will top 20 points and win at home. Miami 24, Florida State 20.
2. Cal at Tennessee-
Jeff Tedford is known for his offense, but it's the defense that will carry Cal this season, especially early on. Tennessee rehired David Cutcliffe to run the offense and tutor QB Erik Ainge. Ainge has all the pressure in the world to produce, and Cal is not the most ideal opening game. Cal 27, Tennessee 13.
3. Notre Dame at Georgia Tech
- This could be the upset of the opening weekend, but the Yellow Jackets secondary will be at a disadvantage all night. On the other hand if Tech QB Reggie Ball can get the ball into the hands of Calvin Johnson, the Jackets have the shot at the upset. Brady Quinn will kick off his Heisman campaign is glorious fashion. Notre Dame 41, Georgia Tech 24.
4. USC at Arkansas
- Easily one of the most intriguing match up this Labor Day weekend. Can USC's offense continue its greatness with Bush, Leinart, and White? How will Josh David Booty respond playing against a decent team on the road, with revenge on its mind? Arkansas Darren McFadden is still questionable for the game and if he is no where near 100%, the 'Hogs don't have a shot at win. As good as the USC offense has been the last few years, people tend to forget Pete Carroll is a defensive guru. USC 28, Arkansas 6.
5. Washington State at Auburn
-Underrated match up, winner could be a national title sleeper. Honestly, if Washington State won at Auburn, don't you think they would be considered one of the better teams in the nation? It might be a stretch, but Washington State should have closer to 9-2 last season instead of 4-7. Auburn on the other hand, is my preseason No. 1 and rightfully so, the Tigers are loaded and talented. Some receivers have to emerge for Auburn to take it the distance, and WSU will be good challenge early on. Auburn 38, WSU 21.
6. Utah at UCLA
-A fun matchup that could go a long in determining who will play in the one of the five BCS bowls. A Utah win will certainly signal the start of unbeaten BCS crashing season. A UCLA loss could be the final straw for Bruin head coach Karl Dorrell. True UCLA fans were not fooled by last season's 10 win season. UCLA 34, Utah 30.
3 Potential Upsets........What will happen-
Baylor beats TCU. The Bears are not as bad as they used to be. And TCU is not as good as its 11-1 record of a year ago.
What might happen-
BYU surprises Arizona. The Wildcats are coming off of a 3-8 season, BYU almost beat Cal in the Las Vegas Bowl.
What is unlikely to happen-
Hawaii upsets Alabama. The Warrior defense is awful, but the Alabama offense is not going to score too many points either.
A Betting man? Surefire Picks!West Virginia (-22)
) vs Marshall - The Herd will have a tough time containing White and Slaton.
North Texas(+41)
at Texas - The 'Horns are going to roll, but covering 41 will be tough with a new QB, even against the Mean Green.
Utah State (+12.5)
at Wyoming- Plenty of offensive weapons for the Aggies, and they might win this one straight up.