Week Two Picks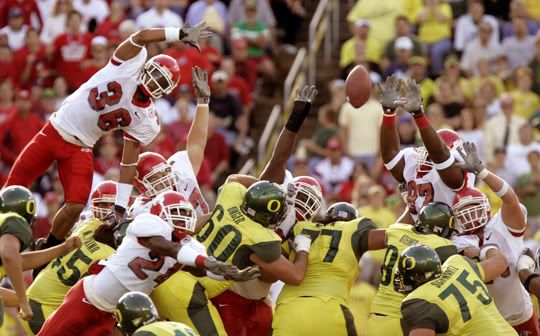 The Biggest Games(ranked by significance)

1. Ohio State at Texas- The first time in 10 years No. 1 vs. No. 2 will go head to head. Games don't get much bigger than this, especially in September. Ohio State has the obvious advantage on offense and Texas has the obvious advantage on defense. The game will fall on the shoulders of Texas freshman quarterback Colt McCoy. If he can make plays with few mistakes, the homefield advantage will be enough for Texas to pull out the win. Texas 28, Ohio State 26.

2. Penn State at Notre Dame- The Irish will win this game, but will it be close or a blow-out? Penn State QB Anthony Morrelli should have some success against the Notre Dame secondary, but Brady Quinn will shred the Nittany Lion secondary. Penn State's linebackers will have to step up their game, if the Nittany Lions expect to have a chance to win. Notre Dame 31, Penn State 21.

3. Clemson at Boston College- The Eagles looked like awful last week against Central Michigan, while Clemson blew out Florida Atlantic. With that said, Clemson looks like the easy pick, even on the road. However, Boston College should be able to control the clock and be able to eek out the upset win at home. Boston College 29, Clemson 28.

4. Georgia at South Carolina- Arguably the toughest game to call this week. South Carolina's defense was great last week, albeit, it was Mississippi State. Georgia is still unproven, and playing on the road this early has all the makings of an upset. If South Carolina can get the ball into WR Sydney Rice's hands 7-10 time in this game, the Gamecocks should come out on top. South Carolina 13, Georgia 10.

5. Oregon at Fresno State- Can Pat Hill pull out the victory? Oregon looked unstoppable last week against Stanford, but it will be a whole different story away from Eugene. The 'Dogs matchup well with the Ducks, and the homefield has proved to be the difference the last three times these schools have met. Fresno State 34, Oregon 32.


3 Potential Upsets........

What will happen- Fresno State beats Oregon. See above.

What might happen- Nevada surprises Arizona State. ASU looked bad against Weber State, while Nevada was just a few plays away from upsetting Fresno State.

What is unlikely to happen- North Carolina upsets Virginia Tech. The Tar Heels tanked at home last week against Rutgers, but VA Tech could be in for a surprise this week.

A Betting man? Surefire Picks!

UCLA (-27.5)) vs. Rice - UCLA looked very good last week against Utah, Rice will score some points, but the Bruins will hit 50 in this one.

Tennessee (-19.5) vs. Air Force - The Vols could tank this week, but the offense should continue to roll.

Texas Tech (-7) at UTEP - Are you kidding me? This will be a high-scoring affair but Tech will outscore the Miners by double-digits.